"Brothers and sisters, I am now rejoicing in my sufferings for your sake, and in my flesh I am completing what was lacking in Christ's afflictions for the sake of his body, that is, the church." ~ Colossians 1:24
Suffering is an unfortunate fact of life, and people with mental illnesses experience their fair share of it. The suffering is compounded for those with comorbidity (when a person has two or more illnesses occurring at the same time. e.g. Fibromyalgia often occurs in patients with mood disorders) or when personal tragedy strikes. There are no easy answers to the problem of suffering, although a number of excellent books have been written on the subject (Making Sense out of Suffering by Peter Kreeft and The Problem of Pain by C.S. Lewis are two examples). There's nothing I can tell you that hasn't been said more eloquently and with better insight by someone else, but I'm hoping to offer you a way of looking at your suffering that allows you to make use of it to achieve something positive.
First off, allow me to chuck a few assumptions out the window. I'm not going to elaborate on the idea that "what doesn't kill you makes you stronger." My friend and I have a joke that according to that rule we should both be able to bench-press semitrailers by now. It has some credence. Pain changes you, often for the better. But not always. Then there's the saying that "pain is just weakness leaving the body." To be blunt, I think that's one of the stupidest sayings in existence and anyone who tosses it at me receives a withering glare. Pain creates weakness, not the other way around. I'm not talking about athletes and soldiers who have to physically push themselves to the breaking point to achieve a goal. That kind of pain does make you stronger, in a very literal sense. You become physically tougher, with better endurance and better abilities.
Mental illness doesn't do that.
Depression leaves you curled in a ball of self-loathing pain on the floor, unable to even decide which clothes to wear and lacking the energy to put them on anyway. Hypomania takes your thoughts, shakes them up like a bottle of pop and makes it impossible to remain seated long enough to read one page of a textbook (which wouldn't have worked anyway thanks to your racing thoughts), and if it progresses to full-blown mania you might get to spend some time in a psych ward. Anxiety gives you panic attacks that leave you paralyzed, unable to breathe, unable to act, so terrified and miserable that you're afraid you're dying. ADHD does the same thing to your thoughts as hypomania, except it's 24/7, 365 days a year, and people blame you and make fun of you for struggling with a disorder that lots of them don't even think is real. People with schizophreni
a suffer through hallucinations and delusions that very few people can even begin to comprehend. People with borderline personality disorder struggle with the lonely misery of alienating the people they love because of their behavior, which the disorder makes very difficult to control.
The list goes on and on, and outside of a Christian context, it can be difficult to find positive things within that mire of unpleasantness. There are some: You might develop coping mechanisms that give you strength. You might get used to your disorder and become more resilient to its effects. You might become more compassionate towards the suffering of others. Or not. Ultimately, mental illness makes life a lot harder than it would be otherwise, and to what purpose? How can there be an advantage to suffering? How can you possibly turn abject misery into something good? Unless you're coming at it from a Christian perspective, I don't think you can.
Now, when it comes to Christianity and suffering, one of the first objections to God that atheists and agnostics toss out is that very thing: why would an all-powerful, all-good and loving God allow suffering in the first place? I don't claim to have the answer to that, but this post  by Tianna Williams does a lovely job of tackling the subject. For now, I want to offer some concrete suggestions to believers about how suffering can be put to good use. These will not take away your suffering. They will simply give it a purpose, and that can make it easier to bear.
There are two concepts in particular I want to discuss. One of them is Purgatory, and I'll be attempting to tackle that in Part 2 of this post. As far as I know, Protestants don't believe in it, so if you're Protestant then that might not be of much use to you. But there's a lot of confusion and misunderstanding revolving around the concept of Purgatory and I might be able to clear some of that up for you, so I encourage you to check it out anyway. The other concept can apply to Christians of any denomination, without question, although I'm not sure if it's something that is discussed much outside of the Catholic church. I'll tackle that concept first.
If you're Catholic, you've probably heard of the idea of "offering up" your suffering to God for a purpose. Or you might not have. A few years ago, I had heard about it, but for a long time I had no understanding of its value. I wasn't close enough to God to feel inclined to try it, especially when I was in the midst of intense suffering. It was an airy-fairy sort of subject that sounded to me like a half-hearted consolation prize handed out by people who didn't know what else to say to someone in pain. I've since revised that opinion. Part of my confusion came from not knowing how to offer my suffering up. It wasn't as if I could grab it off a shelf and give it to God. I also couldn't understand how offering God my suffering could have any value. Suffering was forced on me against my will. It wasn't as if I was making any special effort to do something for God by experiencing it. And then there was the question "if I offer my suffering up, does that mean I can't ask God to take it away?"
All of this conspired to keep me from exploring the subject. I also, deep down, still resented God a little for having to deal with the suffering in the first place. If you resent God for your suffering then it's pretty hard to make any use of it at all. It took me a long time to accept the grace that allowed me to pull that deeply rooted weed out of my heart. But once it was gone, I received a whole new dimension to my world-view. Christ's suffering and death redeemed the entire world. He died once, for all. But that doesn't make all of the suffering in the world that's come since his death obsolete and useless. Suffering has merit.
"Dear in the eyes of the Lord is the death of his devoted" ~Psalm 116:15
Other versions of the bible read: "Precious in the eyes of God is the death of his saints." It means the same thing. God values our suffering. He understands deeply just how much we hurt. It moved him to send his only begotten Son to earth to die for us on the cross. It gave our suffering a purpose. Because Jesus opened up the gates of heaven for us, we can join our suffering to his on the cross and do something with it. I didn't understand this idea at first. How can I join my suffering to Christ on the cross? For some reason the idea didn't 'click' with me. Then I was given another way of looking at it: because Christ used his suffering and death to pay the price for our sins, we can now go to God with our suffering and say "you used your Son's suffering to redeem me and the world. Please use my suffering too."
God can make use of suffering. Don't ask me how. I don't know. But he does. When you're praying for something, maybe for a loved one, or for the resolution of a problem of some sort, you can take whatever suffering comes your way and embrace it for the sake of that intention. You essentially put your money where your mouth is: "God, instead of resenting this bout of depression, I accept it willingly for the sake of my loved one who has turned away from you. Please make use of it to guide her home." Now, this doesn't mean you can't pray for God to take the suffering away. You can. But by accepting it with patience for as long as you're forced to endure it (or at least making an effort to do so; it isn't easy) you gain great merit for yourself and for the intention you're offering it up for. (You can also offer it up as a penance or mortification, but I'll discuss that in a later post.)
This is one of those things that's easier said then done. In theory, it's an exciting possibility. God used his Son's suffering to redeem me, so he must be able to use my suffering to accomplish something too! In the same breath, we have to keep in mind that we aren't Jesus. He was a perfect, innocent human being without blemish (not to mention, he was also God). He didn't deserve any of the suffering he endured on this earth, but he embraced it anyway for our sake. No amount of suffering on our part will ever come close to being worth that kind of merit. Despite being redeemed by his death, we are still sinful creatures. But our suffering can still have great worth when we attempt to imitate Christ by picking up our cross and following him.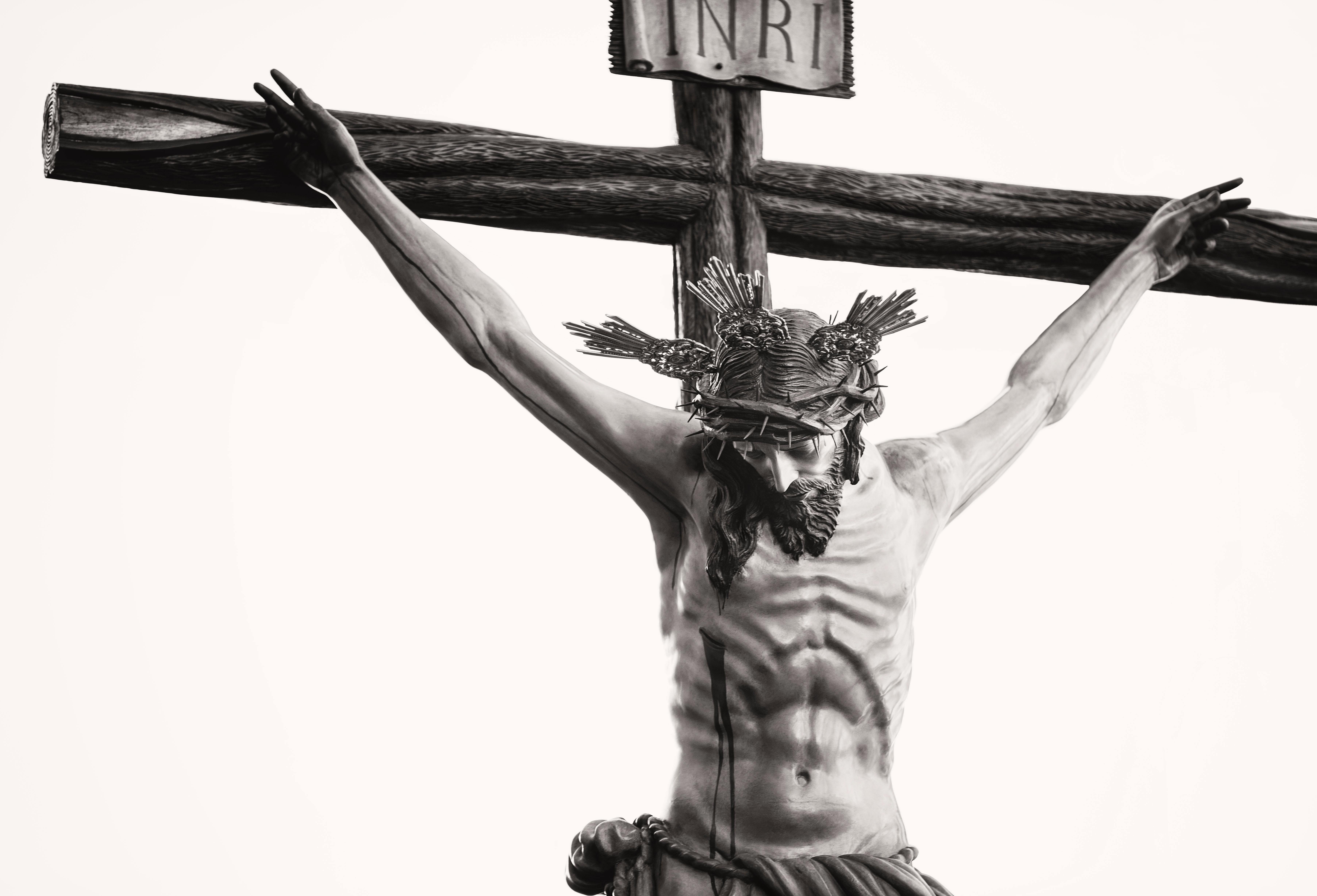 This idea also plays into my discussion of Purgatory in Part 2 of this post.
Until then, take care and God bless!
Kasani