This is going to be a three-part post. Part 1 is where I'll share my story in regard to this topic. In part 2 I'll take a look at what scripture has to tell us about it. In part 3 I'll offer some suggestions for coping mechanisms. If you struggle with self-harm, proceed with caution. This is not going to be a graphic discussion, but I've found that just discussing the topic can be triggering. If you're concerned, you might want to skip this post, just in case. The next two posts will be a safer read for you. If you are someone who has a disorder that causes great emotional pain (depression and bipolar are just two examples) and you've never had the urge to harm yourself, don't read this post. There's no reason to feed your brain ideas. If, God forbid, it becomes an issue for you, feel from to come back and check these posts out.
If you don't fall into either of those categories and are simply looking for some understanding of why people do this to themselves, or you're trying to understand a friend or loved one, I hope this will be of some use to you.
As a final disclaimer, I want to add that everyone is different. I cannot say whether or not my experiences are what everyone else with this problem experiences. I've never had the opportunity to discuss this topic with another person who has dealt with this. For all I know, my brain is just especially messed up. But I suspect my symptoms are not unique.
Anyway. Lets start.
Brace yourself for a long post. I didn't want to have to split the story up, so I've blurted it all out at once. I find this topic very difficult. The only mental health topic that I find more painful to address is suicide, and I'll be getting to that in a later post. The only reason I'm sharing my own story about this issue is because I figure if I'm going to offer advice on the subject, people have a right to know what experience I have with it. From this post you can decide whether or not I know what I'm talking about.
I'll be the first to admit that compared to most people, I've gotten off easy. My childhood was stable. My best-friend and my parents are supportive. I've read many stories of people who don't have those things and have gone through much worse experiences than I have. If you struggle with self-harm, it wouldn't surprise me at all to hear that your story is a much darker, more difficult one than mine, and you may very well still be stuck in the middle of it. But one thing I can assure you is that I fully understand how awful self-harm urges are. I know how difficult they are to resist. I still get them on occasion. Granted, I've never been a cutter, but there are other ways to go about harming yourself. I'm not going to discuss them. It's sufficient to say it's been roughly two years now since the last time I gave in to an urge, and I will never walk down that road again. If you are struggling to break free of this addiction, I promise, it is possible.
I was eleven years old when I first heard about "cutting." Considering how prevalent it's become in today's culture, it might seem ridiculous for me to have reached that age without ever having encountered the subject before, but I was a decidedly sheltered homeschooled child. I remember the day clearly because it was the same day I got braces and I was feeling awful. It was raining, and my mother's friend was visiting for coffee. I overheard the topic get brought up between them, and I gathered from their subdued tones that it wasn't a pleasant subject, but I had no idea what they were talking about. I waited until my mother's friend left, and then I popped the question:
"What does cutting mean?"
With a certain amount of discomfort, my mother explained the concept to me. I still very clearly remember my horror: Why on earth someone would want to do that to themselves? Little did I know that six years later I would have a very intimate understanding of the answer.
September 2012, age 17, nine months after my diagnosis, I experienced my first major depression. Of course, I'd been dealing with periods of depression on and off for several years without realizing what it was, but that had been nothing compared to this episode. It began about halfway through the month and slowly progressed over several weeks until I reached a point where I was convinced I couldn't possibly get any lower. It's laughable how wrong I was. My subsequent depressions were more cripplingly severe. But in some ways, I think a person's first major depression is always the worst. The unfamiliar agony is a complete shock to your system and you have absolutely no idea how to cope with it.
Anyway, that was about when I started to experience something I never had before: I began getting the strong urge to intentionally harm myself.
Remember that eleven year old kid who was horrified by the concept of cutting?  That former horror did not go away. In fact, it came back to haunt me in spades. When I began to get self-harm urges, I was more disturbed and mortified than words can express. My mother had told me way-back-when that people who cut themselves were "very sick." Not in a harsh, disparaging way, but in a "those poor people have something mentally wrong with them" kind of way. So apparently there was something mentally wrong with me. You'd think that fact would have sunk in nine-months earlier, but it wasn't until a full year after my diagnosis that I actually clued into the fact that being bipolar means you are considered "mentally ill." I guess it takes a while to register stuff you don't want to accept.
I was in what felt like an impossible situation. I instinctively knew that harming myself, aside from it being "very sick," was also morally wrong. But as much as I felt horrified and ashamed, the urges were still there, and they were getting worse. I felt completely trapped. I couldn't bring myself to tell my parents. I loathed myself so much for it already that I felt sure they would either blame me or refuse to let me out of their sight— or both. Perhaps not being let out of their sight would have been good for me, because it was the times when I was isolated that I was hit the hardest, and it was on those occasions that I occasionally gave in.
If you've never experienced it, I suspect you're pretty puzzled as to what an urge feels like. As I've said before, I don't know if other people experience what I do, so I don't claim to speak for anyone else. For me, it often goes something like this:
The prelude to an urge is usually some sort of emotional disturbance. Depression and hypomania can trigger one. Mixed episodes always trigger one. Actually, I usually get quite a few throughout the course of a mixed episode. It's the combination of energy and anguish. But my bipolar episodes aren't the only potential triggers. Life events, usually negative but occasionally even positive, can trigger them as well. All it requires is some intense emotions getting stirred up. It's a bit like how tornadoes require certain conditions to spawn. You need a supercell thunderstorm.
The urges I get from straight depression aren't usually the impulsive type. I hurt so much inside that I'm just desperate for a distraction and physical pain is the quickest (temporary) solution. Those are the easiest ones to resist. The urges I get from hypomania or mixed episodes are different. They're the dangerous ones. Lets call them "agitated urges."
When an agitated urge hits me, it feels like my veins have been lit on fire. I've described it as feeling like there are ants crawling under my skin, but it's not a tactile feeling like being touched. Think of what happens to a bottle of pop when you shake it— millions of frantic bubbles swarm to the top of the bottle and build up the pressure, battling against the plastic to escape. That's what I feel like internally, and the plastic that the energy is building up against is the underside of my skin. I feel it throughout my entire body, but it tends to be the worst along the insides of my arms and legs.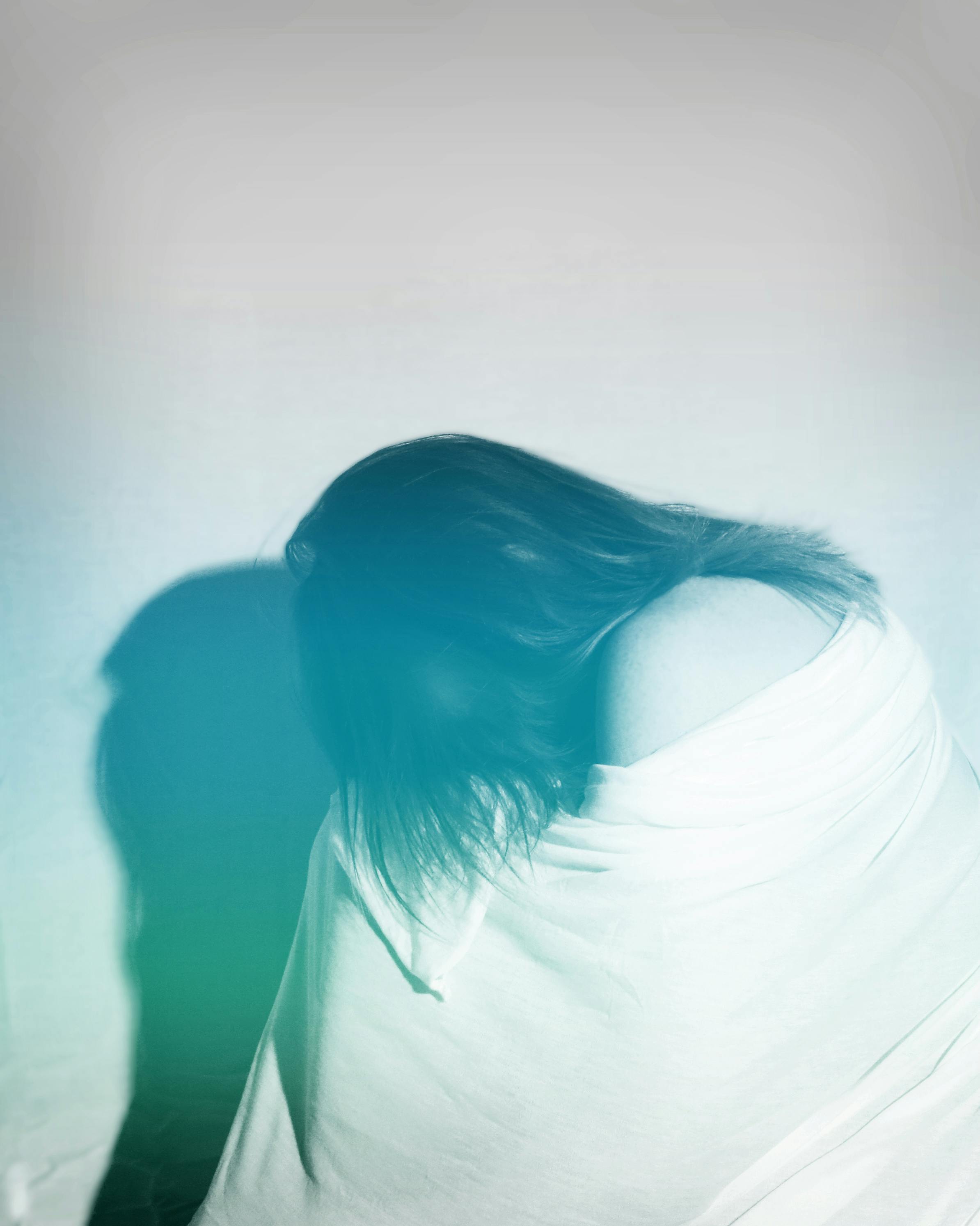 Sometimes it's mild, like a distracting headache. Other times its viciously intense. The discomfort is unbearable. I want to run, scream, hit something, anything to bleed off the energy or distract myself. Trying to sit still is sheer torture. When it's especially bad, being in physical contact with anything— even clothing —aggravates it like gasoline on a fire. It's not exactly pain, but it's so unpleasant that actual pain feels good in comparison. Physical pain acts as a distraction, much like with the depression urges. It can cut through the feeling like a bucket of ice water.
But there's more to it than that.
A strange mental thought process goes along with an agitated urge. When I'm simply depressed, the depression is what incapacitates me, not the self-harm urge. But with an agitated urge, the urge itself is incapacitating. It makes you feel crazy. You pace back and forth, hold your head in your hands, pull your hair; if you're sitting down you rock back and forth because sitting still is impossible. If other people are around, you have strong incentive to clamp down on these outward displays, so usually it isn't noticeable to people around you. But when you're alone, you don't have any other choice. You can't distract yourself with the presence of another person. The bizarre behavior is the only thing that keeps you from spontaneously-combusting.
And yet, despite the anguish you're in,  there's no evidence of it outwardly. No one understands. Don't get me wrong, my family is sympathetic. But they can't fathom the experience, and so there is really no point in explaining the details to them. It would just upset them pointlessly. But when you're in the midst of that sort of suffering, there are simply no words to describe how frustrating it is knowing that no one else can understand what you're going through.
Imagine being the only person in the world to ever experience a migraine. Migraines are awful. But if no one had ever even heard of them, including yourself, you'd probably start wondering if maybe you're just being a wimp. Geez, no one else gets totally incapacitated by their headaches. Maybe I'm blowing this out of proportion? And yet, you are incapacitated. The only thing that could officially prove to you that you aren't just being weak compared to other people is if it gets bad enough that you start throwing up. That's not exactly something you can push aside as 'wimpishness.' It's a legit physical reaction to pain. It's confirmation that you really are in hell. You're not just imagining things.
Agitated urges don't give you that. You've got nothing to point to that validates your misery. This, added to the fact that physical pain is the quickest possible distraction, can lead you in a very bad direction. Giving yourself tangible injuries is, for the moment that the urge is hitting you, twistedly therapeutic. It's like a validation of sorts: Yes. This is really happening. I am in so much discomfort that I'm resorting to self-injury to try and cope. I'm not imagining things. This is real.
To top it all off, I also feel a certain amount of anger at my own body for putting me through the experience in the first place, and so harming myself becomes a sort of revenge (you don't have to tell me that that isn't rational. Believe me, I know). In the moment, it's satisfying. Afterwards is another story entirely. The guilt and self-loathing would hit me like a kick in the stomach. But during an urge, self-discipline is not something that's easy to grasp onto. Pain makes people irrational and impulsive. And, scientifically speaking, injuring yourself offers legitimate relief because it gives you a rush of endorphins. That's what makes it addictive.
Now, people self-harm for different reasons. In some ways, it almost seems to be a fad now. I somehow doubt that everyone who self-harms gets agitated urges. In some instances a person can be pushed in the direction of self-harm by  a combination of helplessness, self-pity and anger brought on by mistreatment from friends and family. You're miserable, you don't know how to cope, and people won't take you seriously, so you develop an I'll show you mentality (even if you aren't actually intending to let anyone know you've started doing it), and you wind up in way over your head before you realize the consequences of what you're doing.
This sort of theoretical situation leads some people pooh-pooh cutting as "attention seeking."  Now, maybe in some instances it can be called that. But overall, I utterly disagree with that suggestion and find it offensive. First off, it dismisses the behavior as nothing but a silly, childish phase that rebellious young people go through. Secondly, it releases the person who says it from any responsibility regarding the situation. It's the young person's fault. They just need to smarten up and get over it.
Self-harm is not silly, and it's not childish. It's dangerous. It's not a phase. It's an
addiction. I don't think people understand just how addictive it actually is. Yes, the person who makes the choice to self-harm is at fault for that choice. But regardless of why someone begins self-harming, it needs to be taken seriously. Once you start, it's hard to stop, and I'm sure I don't need to stress how damaging a habit it is. Also, keep in mind that nobody self-harms for fun or for kicks. It's not some sort of "pastime" people take up because they're bored (at least, I certainly hope no one takes it up for that reason). A person self-harms because they've been driven to it by emotional pain. You can't see emotional pain, but you can see cuts and scars. Trust me when I say that the cuts and scars are nothing in comparison to the emotional pain that drove the person to make them.
Basically, what I'm saying is to have compassion. Rather than blaming someone who self-harms and holding them in contempt, try to offer some support. They need it more than you know. And in some cases, there's more going on than just life events. Sometimes it's linked to a serious mental illness. I fall into the "serious mental illness" category, but I don't consider that to give me any more of an excuse for the behavior than people who don't have that. Self-harm is a swamp that people get stuck in for all sorts of reasons. It doesn't much matter what road took you there. Once you're there, you're there. It's the same hell for everyone.
Part of what makes me take offense to the suggestion that self-harm is attention-seeking is that in many cases that accusation couldn't possibly be farther from the truth. When I was dealing with this problem, the very suggestion that it might be an attention-seeking behavior was enough to make me want to break something with helpless anger. I'll elaborate on why.
When I started experiencing urges I was completely mortified. I absolutely loathed myself, and the thought of anyone finding out was terrifying. I didn't want attention. I wanted it to go away, and I didn't know how to make that happen. I did everything in my power to cover up the fact that it was going on. And yet, the fact that everyone was unaware of my situation just multiplied the suffering. I felt like I was drowning right in front of everyone without them having the slightest idea. Granted, my parents weren't oblivious. In fact, my father repeatedly pulled me aside to ask if I was okay. He could sense something was more wrong than I was letting on. But I couldn't bring myself to tell him the truth.
So I lied.
"I'm fine."
Those two words left me sick to my stomach with guilt every time I said them. But I kept saying them. I said them so often, with a fake smile, desperately trying to convince myself I wasn't lying (and not really succeeding), that I reached a point where they were out of my lips before I even had a chance to think about it. It became a knee-jerk reaction.
Looking back now, I can see it wasn't just a fear of alienating them that kept me silent. It was a pride problem. I was accustomed to being looked upon as the well-adjusted overachiever who had her life in order and was excelling. Admitting to having a mental illness that was actually disabling me— let alone that I was having self-harm issues —would shatter that persona. I told myself I was afraid of letting the people down whom I respected and looked up to— my parents, my teachers, etc. To some degree, that was true. But deep down, what I was really afraid of was not letting those people down, but rather,  being looked-down upon by them. I didn't want to appear weak and incapable. I wanted to impress them and live up to the expectations I thought they had of me.
So I kept right on lying and pretending to myself that I wasn't.
Things kept getting worse. The only thing that kept me from resorting to cutting was my inability to hide it from my parents. There was simply no way I could do that without them eventually finding out— which would, of course, destroy that false persona I was trying to maintain. But there were other ways of going about self-injury that didn't leave permanent marks. Each time I gave in, I recognized that I was on a very slippery slope. I was well aware that self-harm is addictive, and I knew the more I let my self-control erode, the closer I was getting to the cliff of suicide.
To clarify a misconception, people who cut aren't trying to kill themselves. But if you're suffering enough to resort to self-harm, and it becomes an addiction that you are struggling to hide, suicide can seem like your only way out. I was afraid that if I gave in and started cutting, my self-control would erode so much that I would end up impulsively taking my own life during a future mixed episode.
As it would turn out, that was a very legitimate fear, and if I'd continued down that road, there's a good chance that I would have done exactly that in one of my future episodes. But I'll save that story for my post on suicide.
Things finally reached a climax in mid-October. I knew I had reached a critical point. If something didn't change, I was going to give in and start cutting, regardless of the consequences. I didn't have the strength to keep fighting it. I remember kneeling on the floor of my room, praying desperately to God for help, demanding to know why he wasn't intervening and making this stop.
Then, very clearly, I received my answer. It was like Jesus rested a hand on my shoulder and showed me the crossroads I was standing at. The thought was as clear as a bell in my mind:
He couldn't help me until I stopped lying.
Regardless of the path I chose to take, He would be right by my side the entire way, but if I went down the path of cutting, it would be a very long, dark climb to get back out of the pit that it would plunge me into. The only way of escaping that fate was to go down the other road: I had to tell my parents what was going on. I couldn't get around it anymore. Denial was the only thing that had kept me from completely breaking down under the fear and self-loathing that I'd been struggling with.
From that point on, the denial began to dissolve. I had spent weeks trying to convince myself that things weren't really as bad as they were, but it was getting harder and harder to do so. I couldn't keep pretending. I knew what I had to do. Now I just had to force myself to do it.
It took me a week to work up the nerve. I tried very tentatively to take conversations with my parents in that direction on a few occasions. But it was a very unusual topic for my family. My parents, through no fault of their own, were decidedly obtuse about the fact that I was trying to bring up something important. I ended up chickening out every time. But the guilt of not telling them was becoming more and more of a burden. Unlike many kids my age, I had a really good relationship with my parents. I didn't hide things from them. At least, not serious things. It eventually reached the point where just being in their lovingly oblivious presence was a torture. It felt like they were constantly heaping burning coals on my head.
Finally, at Mass on Sunday, I knew I had to take the plunge. I waited till my parents and I were out in the car, and then I blurted it out: there was something I needed to tell them, and they weren't going to like it. But then I clammed up. I refused to explain things to them until we got home. I had known that if I'd waited until then before speaking up, I would have chickened out again. But I couldn't bring myself to start explaining things just yet. Not from the back seat of a vehicle. The very fact that I had finally said something, that I had taken the plunge, left me giddy with relief, but I was also shaking and sick to my stomach with nerves.  My parents were distraught. I'd never behaved in this way before. I still remember my dad demanding in an aggravated, panicky tone: are you pregnant? The absurdity of the question (I'd never even had a boyfriend) gave me a burst of borderline-hysterical laughter. I assured him it was nothing of the sort, and then I kept silent.
I think that was probably the longest 30 minute drive of their lives. It was much too quick for my liking. When we arrived home, we all sat down in the living room, and I finally told them what was going on. I had to explain it between sobs because the moment I opened my mouth to speak I began to cry and I couldn't stop. Even at that point, I couldn't bring myself to admit the total truth— that I'd actually given-in to the urges on some occasions. I was convinced that just by admitting to having the urges in the first place they would be utterly horrified, alienated, and disappointed in me. Ironically, however, I had scared them so much by refusing to tell them on the drive that they were actually relieved to hear it was "just that." They didn't understand it, but they didn't blame me for it, and my mother promptly called up my psychiatrist and got me put on antidepressants— something that hadn't even occurred to me as a possibility.
Thanks to the fact that I was bipolar, the antidepressants began taking effect by the next day. They usually have an impressive impact on people with bipolar disorder. The downside is that they usually have an impressive impact on people with bipolar disorder.
Yes, you did read that correctly.
What I mean is that while they can be initially very effective in lifting you out of depression, they are also very effective in shooting you back up into mania. I discovered this when my dose was doubled in a subsequent depression that was more stubborn to treat. But that's a story for another day.
The moral of this story is that if I hadn't lied for so long, I would have been put on antidepressants sooner and saved myself a lot of grief. They certainly weren't a permanent cure, and later on I had to engage in a slow process of weening off them, along with the rest of my medications (you can read up on that story here), but they did give me a badly needed relief and they plucked me away from the edge of the cliff I was teetering at.  Next time I was thrust towards that particular cliff, I had a much better understanding of what I was dealing with and was able to control myself better. And I was thrust towards it. Many times. I still am on occasion— usually only when an episode pops up, but sometimes even when I'm stable. I've developed some coping mechanisms, which I'll detail in Part 3.  More importantly, though, I've developed a stronger self-discipline.
The next thing I want to talk about is what the bible has to say— or more specifically, what St. Paul has to say about this subject. Yes, some of it is guilt-inducing for those of us that have struggled with this, but believe it or not, some of it is comforting, as well as thought provoking. Check it out here.
Take care, and God bless!
Kasani
Under the Knife by Icon For Hire
This is the song I'm too scared to write
But some of you may need it tonight
Oh there you were, heart made of glass
Fragile little thing, shattered too fast
Had to pick the pieces up, up, up
And that's why you first got cut, cut, cut
The devil drew you in, you didn't let it show
Didn't want the others to ever have to know
That you were getting hooked on up, up, up
And all you had to do was cut, cut, cut
You carved a special place for your pain
So it came back to hurt you every night
You closed your eyes and wished it all away
Until you disappeared under the knife
You knew the deal, no one gives a damn
Just another needy kid, sob story in hand
Keep your secrets covered up, up, up
We don't need another cut, cut, cut
But you couldn't hide, a heart made of glass
You pull yourself together with all the strength you had
You were finally fed up, up, up
Finally had to scream enough-nough-nough
You carved a special place for your pain
So it came back to hurt you every night
You closed your eyes and wished it all away
Until you disappeared under the knife
Listen, I know it's simplified from the other side
It's easy to gloss over all the messy reasons why
And it's easy to forget where you've been
I guess that's what the scars are for, huh
When we were 15 we wouldn't dare let that shit be seen
But now it seems mutilations gone mainstream
I see you at my shows, scarred up from head to toe
Like there's no point even trying not to let it show
Cause we all know "Emo kids like to hurt themselves"
Too many feelings, and not enough self control
And I mean does this mess with any of the rest of ya
It's an epidemic yeah we're cool with it don't question it
But it bothers me our scars are currency by which we're measured
Like let the records show who let it slip and who held it together
Cutters and burners and honorable mentions
Posers who cut themselves up for the attention
I don't care your intentions I just want you to know
My self hatred never took me where I wanted to go
At the end of the day, you know I still had to face
But I can pick up the pain, but I can't cut it away
And you know what else I can't do, is give you 10 good reasons not to
I've wracked my brain with clever sayings of all the things you ought to do
But you know I think if there was something I could say
They would've thrown it on a brochure and sent you on your way
So I'll keep doing what I always do
Drag my heart to the piano and make it sing for you
I'll keep doing what I always do
Drag my heart to the piano and let it sing for you
Drag my heart to the piano and let it sing for you